Dear Friends and Relatives:                                                                                                                                                                               Christmas 1994
Given the global catastrophe that began in August and continues unabated to this day, I'm sure many of you hoped expected to receive no Christmas letter from us this year.  It is truly a triumph of the human spirit that life continues on this planet, considering this ongoing crisis, which reached excruciating severity in October.  But despite the Major League Baseball strike, (and thanks to the kind policeman who talked me down off that ledge), I am able to press on.  I remain committed to furthering my hard-earned reputation for boring, juvenile Christmas-time prose, a.k.a., THE 8th ANNUAL PAUKERT CHRISTMAS LETTER!, (The PCL is now available in a handy Spanish translation for our Latin American readership, dial 1-800-Habla-Espaņol).  Certainly during the first three months of my stay at the Sunny Foothills Home for the Sports-Deprived it was difficult to imagine a time when I would even utter understandable words again, much less write tedious Christmas letters.  Yet here I am in December, already doling out the usual run-on sentences, over-detailed descriptions and trivial observations you've come to know and shred.  None of this would have been possible without twice-daily screenings of Ken Burns' PBS series 'Baseball.'  All that keeps me going now is the knowledge that our AAA Minor-League Calgary Cannons start play in just 5 months, 3 days, 7 hours and 22 minutes.
No new kid, dog, house or job in 1994.  You might be thinking you'll get off easy with a short letter this year.  Don't count on it.  I could fill a telephone book with stuff about Katherine, who is 2-fingers old and will be 3-fingers old in March.  This means she is a big enough to pull a nine-foot-tall-fully-decorated-Christmas-Tree over on top of herself.  Like she did this morning.  ('Well yes you said don't touch but I was making it pretty, and besides I got out from under it').  Katherine makes an auctioneer appear shy and retiring.  Words flow unceasingly from her little toddler mouth, at times making us consider adding one more to our list of uses for duct tape.  There were lots of firsts for Katherine this year:  swimming lessons, pony rides, skating, Sunday School with the big kids, and learning to ride her trike. One of her favourite things is to play "map-puzzle" with Daddy.  The map-puzzle is a puzzle of the USA with a piece for each state.  When we bought it we thought it was way too difficult for her, therefore in a few days she was putting it together and telling us the names of all the states, (including the one she insists on calling 'Windiana.')  We couldn't find a map-puzzle of Canada's provinces so daddy borrowed a jig-saw and made one for her.  When Daddy's away on business, Katherine and Mommy follow his progress on the map-puzzles.  Katherine is very eager to read and has letter-sounds down pat.  We're starting now to sound-out 3-letter words.  How cruel our language is: "Sorry kid, THIS time C makes a K sound, not an S sound, fooled you again."
Barb had almost 18 hours of waking free time this year, (up from 12 hours in 1993).  She put the time to good use by growing enough food to feed 4 emerging African nations in her magnificent garden.  I'm not kidding.  We finally had a summer where the growing season didn't fall on a weekend and all of our repressed plants went into an orgy of growth.  Add to that her natural-born Saskatchewanian farming talents and you have a riot of produce.  Her strawberries were muscling through the garden fence trying to take over the yard, the raspberry stalks got so tall we had to install flashing red lights
to protect low-flying aircraft, and our basement floor is still covered with tomatoes. Occasionally, Barb was allowed to actually leave the property and have what resembled a life. She enjoyed a weekly Mother's Fellowship group at Church (especially the babysitting) and got together almost weekly with friends to take the munchkins through the Zoo.  Thus Katherine now knows more animal species names than both Barb and I combined, (Mommy, can we go see the Yellow-Tailed-Reticulated-Crested-Lesser-Pocket-Gopher?)  She's still leading our weekly Bible Study/Fellowship group, a wonderful bunch that lends us a lot of support and encouragement.
Kootenay and Toquima are, sadly, nearly the same neurotic canines that you remember.  Metabolism has finally caught up to the 8-year old Koot and she has ballooned from 70 to 90 pounds.  Toquima is 7 now and went grey in the face almost overnight, probably from terror over the hot-air balloons that often overfly our house.  Living on the edge of town we have a 1/4-section cow pasture two blocks away where they get me to take them for exercise if they whine long enough.  After you lose the feeling in your legs those 11:00pm walks on those -400F nights in January are almost fun. 
Again in 1994 Norcen thought it expedient to pay me to spend nights sleeping in uncomfortable chairs...crammed into smoke-filled, hollow, flying tubes....shaking violently through the air, some 35,000 feet over the Amazon Basin. These exciting evenings en route from Miami to Buenos Aires were followed by a full day of work:  bleary-eyed, in a new time zone, in a new climate, in a new season, with a new headache and everyone speaking warp-9 Spanish at me.  I spent most of my away time this year in Patagonia and in the Andes Mountains which beat being cooped up in downtown Buenos Aires.  Typically, I would fly out from Buenos Aires and drive to our partner's field offices to show technical work.  Learning to drive in Argentina was a thrill.  The first thing you have to do is visit the local medical clinic where a team of surgeons removes the Precipital Lobe of your brain, which governs your ability to judge imminent danger.  After this simple (easier for me than most) procedure, driving at night with no headlights, or 5-abreast on a 3 lane street seems perfectly normal.  Mostly I woke up each morning in a hotel trying to figure out which of these three cities I was in:
Buenos Aires:  If aliens suddenly abducted 8 million Italians and 5 million Spaniards from Europe, and transported them to live in a sea of 1940's-style apartment towers on the edge of a huge swamp in South America, you would have Buenos Aires.  That may, in fact, be what happened. But it's not a bad place for having 13 Million people.  The people are friendly and it's completely safe to walk the streets downtown at midnight, (just after dinner in the Argentine culture).  The climate is something on the order of South Carolina so I do every thing I can to avoid trips in the muggy austral summer.  A mere $250 will buy you a night at the Sheraton.  Buenos Aires is often rated the most expensive among cities in the Western Hemisphere.  Don't even think about shopping here.
Mendoza: is a combination of Denver and Phoenix.  It sits hard by the eastern slopes of the Andes, and is so dry that when you ask people when it last rained they tell you what year that last happened.  Mendoza is also sort of like northern California because these people are
serious about wine.  They grow wine, they make wine, they drink wine, they sell wine, they put free wine in your hotel room.  It wouldn't surprise me if I found out they bathe in wine.  This is Wine Central.  Wonderful - I hate wine.  Why can't Norcen send me to a place where they grow chocolate milkshakes?  Vinology aside, Mendoza must be the most beautiful city in Argentina.  It is a relatively clean city with tree-shaded, tiled plazas and boulevards.  People are much less hyper there than in Buenos Aires (where there is apparently a monthly quota for clobbering pedestrians).  An hour west of Mendoza by car and you are in the heart of the Andes near Cerro Aconcagua, (at 22,000+ feet the highest peak in the western hemisphere), on your way over the pass to Santiago de Chile.
Neuquen:  Besides being a city whose name is a palindrome, (look it up), Neuquen is a city of about the size of Colorado Springs.  Neuquen is in Patagonia, the dry plains that stretch all the way to the tip of South America.  It looks a lot like eastern New Mexico, but with two broad river valleys chock-full of orchards.  Neuquen is a challenge for me, because very few people there have had the courtesy to learn English so they can talk to me.  It's amazing how fast your Spanish improves when little details like food, shelter and not driving the wrong direction and ending up in Tierra del Fuego depend on it.  I'm continuing to take lessons at work and after work at Mount Royal College.  Those combined with 3 years of Junior High Spanish have me to the point that, when I have to spend the day working with someone who speaks no English I don't have to resort to hand gestures and screaming anymore.  (And what a relief to have made it through a whole year without once mistakenly using that verb that you NEVER, EVER, EVER use in Argentina, which of course is an every-day term meaning something entirely different in every other Spanish-speaking country!)
A lot of the prospects I worked on in 1994 are scheduled to be drilled soon, so 1995 could be an exciting year.  Unfortunately I may not be around to see the results.  Late in the year Norcen decided there were 130 too many bodies in the building, (by hiding in the washroom I survived my 5th round of layoffs in the last 9 years).  The new set-up is thus far chaotic and at times begins to feel much like what I thought I had escaped from at Exxon/Esso.  Happily, for the first time since 1985, there is a real demand for Geophysicists, and right now a number of companies could use one with 10 years experience and who speaks Spanish.  The critical factor is whether the new management is serious about exploring in South America, or not (in which case you get paid to waste your time, which sounds ok but is really a drag).  In any case, it appears there will be fewer trips overseas, which puts a real smile on Barb's face.
WARNING:  DREADED VACATION RECAP SECTION AHEAD:  In September I lost my mind completely and suggested we just rent a cabin for a week and relax, inconceivably spending the entire week in one place.  How's that for a bizarre, warped vacation concept?  None of the usual epic car journeys, herculean backpacking treks, or volcano-scaling.  We drove to the Robson Valley, which is between Jasper, AB and Prince George, BC, in east-central BC.  Here we had the Rockies on one side of the valley, and the Cariboos on the other, separated by the mighty Fraser River.  We had a nice log cabin overlooking the river.  I know you'll find this hard to believe, but I didn't do or accomplish anything for the first four days!  After that, Barb untied the ropes and I goofed off voluntarily.  I think there at the end I may actually have been relaxing!  We did a little hiking, but the bush is so thick in the Cariboos that there aren't many trails.  The best we could do was drive to the end of a 4WD logging road and have a picnic. 
Despite numerous inconclusive criminal investigations by the RCMP in Ottawa, this year I became a Canadian Citizen.  Fortunately, the USA no longer gets all hot and bothered about dual citizens, so now both Katherine and I are 'Duals.'  (Poor mommy, she only has one country).  Since I had to take a test, until I forget the material I probably know more about Canadian history and government than most natural-born Canadians.  Go ahead, ask me how many MP's there are in the House of Commons.
They laughed when I started the Evil Basement Development Project (EDBP), but now I have the last laugh after three years of bruised thumbs and inhaled gyprock dust.  We are proud to announce that the Fabulous Gyprock Suite at the Hotel de Paukert is almost complete.  Paint even it has!  Maybe we'll go first-class and put carpet down on the concrete soon!  Whatever, it's an additional 800 square feet so it feels pretty good.  Since it's almost done I guess we'll be moving soon.  We'd like to find an acreage west of town to move onto in the next few years, (maybe I can raise flocks of emus or hamsters when the oil industry goes into the tank).
This seems to be the year of seeing people we haven't seen in many moons.  In May, I found a way to stop through Indianapolis on the way from Argentina to Canada to see my college room-mate Dave Neel and his family.  It couldn't have been 12 years since I last saw him because that would make me way too old.  Dave and Karen Erickson from Richland, WA and Chris Shaw, fellow rock-buster and dorm-mate from college also visited us this summer.  We're looking forward to seeing many of you that we haven't seen in a while when we're in Colorado for Christmas.  Our Wonderful Christmas Eve Tradition seems usually to involve a white-knuckled drive on black-ice across Wyoming after a restful night crammed into a room at the La Cucaracha Motel in exotic Billings, Montana.  And some people like opening presents by the fireplace...go figure.
We know God will bless you all in the new year.  Drop by and try out the new basement bathroom.
In Christ,
Gary, Barb, Katherine, Kootenay and Toquima
P.S.  After sending out our 1993 photo of the giant extra-terrestrial tootsie-roll sections, we have been flooded with mail from readers reporting other such weird phenomena, (including a recent report of giant marshmallows in from readers in Manitoba).  We do not wish to alarm you, but it is our considered scientific opinion that these are the vanguard of an alien confectionary invasion from outer-space.  We will in the future use the PCL as a clearing-house for further reports.  Our photo this year, taken on the banks of the Bow River west of downtown Calgary, contains no such extra-terrestrial sweets.  Well, it looks like the Paukerts, but it COULD be aliens in disguise.
<![if !vml]>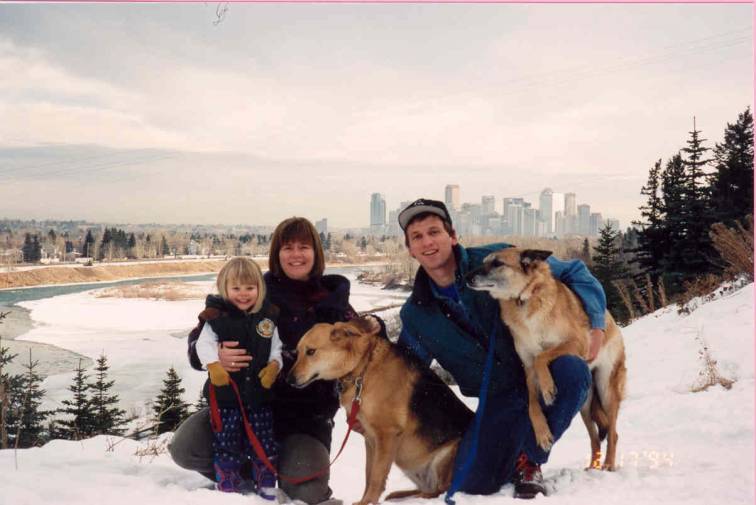 <![endif]>