Dear Friends and Relatives:                                                                                                                                                                                    Christmas 1992
<![if !supportEmptyParas]> <![endif]>
December's finally here again!  And as we all know, both President Bush and Prime Minister Mulroney have designated December as National Paukert Christmas Letter Awareness Month!  (Makes a lot more sense than August, eh?).  The SIXTH ANNUAL PCL is off the presses, and in the mail.  Now it's time for those daily dashes to the mailbox, breathless with anticipation.  The air seems filled with excited squeals of "it's here, it's here!" from the kids, the cheery "got yours yet?" of the neighbors, and the usual "who writes this garbage anyway?" from Uncle Melvin.
<![if !supportEmptyParas]> <![endif]>
If you are expecting the quality of literary prose usually associated with the PCL again this year I'm afraid you're in for a disappointment.  Yes, IT'S GETTING EVEN WORSE and there's nothing you can do about it!  I apologise, but it's just that I'm a father now and, as they warned me, a high percentage of brain cells have become paralysed for what the doctors say won't be more than the next 18 or 20 years.  Remember last year's award-winning PCL?, (back issues always available, just use our toll-free 1-800 number)  Back then we were under the impression that aliens had abducted Barb and surgically implanted a basketball in her stomach to further their plans for world domination.  Well, (and I'm just a LITTLE embarrassed to admit this), that wasn't what happened AT ALL!  What actually happened was aliens abducted Barb and surgically implanted a BABY inside her stomach to further their plans for world domination.  I am NOT making this up and if you don't believe me you can check page 17 of the April 19th edition of the National Enquirer. 
<![if !supportEmptyParas]> <![endif]>
Anyway, on March 5th, this baby started objecting to being inside Barb's stomach (probably because of all the Mexican food she throws down there), and the baby STARTED TRYING TO GET OUT!!  Needless to say we were quite upset about this, what with a good hockey game being on TV and everything.  But I gave Barb a stick to bite down on and that way she was able to handle the excruciating agony for the next few days, (although flossing was more difficult).  I thought we had the problem solved, but then, on the evening of March 8th she bit through the stick and we had to go to the hospital.  This was inconvenient in itself, but as you will see, things just kept getting worse.
<![if !supportEmptyParas]> <![endif]>
You may find this hard to believe, but everyone at the hospital, (including Barb), actually EXPECTED ME TO STAY IN THE ROOM THERE WITH BARB WHILE THEY TRIED TO GET THE BABY OUT OF HER!  Well I just couldn't believe what I was witnessing; you should have heard the screaming and moaning!  But eventually they gave me a sedative and I was able to keep quiet.  Barb, meanwhile, was near the end of her 76 hours of labour (Canadian hospital, American women go through labor), and finally the baby gave up its fight and came out.
<![if !supportEmptyParas]> <![endif]>
When I regained consciousness I got to hold it and we decided to call it Katherine Diane Paukert.  Anyway, this whole experience is pretty cool stuff for us, but of course it is devastating news to the vast PCL readership which will now be forced to endure yearly detailed descriptions of our wonder-child's miraculous development.  (If you think the PCL is boring now, wait till we start potty training!).  So far having a baby is like having another dog, except we can't leave her in the backyard when we go out for pizza (yet).  Recently, we conducted an objective, scientific survey of a random collection of people who are related to us and found that most of them think Kathy has the intelligence of Einstein, the beauty of Christy Brinkley, the athletic grace of Peggy Fleming and the warm personality of Mary Poppins.  This of course is conclusive proof that the child was surgically implanted by aliens and is unrelated to either of us, as we suspected all along.
<![if !supportEmptyParas]> <![endif]>
So, besides the kid, what else happened in 1992?  Well, most of the year we've been entered in a fascinating contest called "When will Gary's career end?"  The screaming you heard last January was Esso laying off 35% of it's workforce and telling us we'd have to move back to the U.S.  First this was to be July, then August, then December and now:  Who knows?  (We checked with the U.N. but it turns out that, shockingly, this type of torture is not prohibited under the terms of the Geneva convention).  But job or no job, we have decided that it will take at least 10 strong men with semi-automatic weapons to force us to leave Calgary, and since gun control laws are rather strict here we don't anticipate moving soon.  So 1992 was a year spent doing exciting, fun things like learning how to conduct a job search in an industry that continues it's 11-year long series of layoffs.
<![if !supportEmptyParas]> <![endif]>
As of the date of this letter two big things are happening.  It looks as if Esso will force me to transfer south sometime around March, thus forcing me to resign.  The good news is there seem to be a few companies starting to hire.  Most encouraging is the fact that I've made the 'short list' for a position at one company and should know in January if I have the job, (they got 300 resumes, interviewed 50 and the short list is about 12 for 3 different positions).  So one way or another, it at least appears our long ordeal with Exxon may finally be coming to a happy ending!
<![if !supportEmptyParas]> <![endif]>
We didn't have too many visitors to our house on the hill this year.  Of course the Penner and Paukert grandparents visited twice each, once with Gary's sister Anne, (but then they have to visit - it's in their contracts).  Bruce and Kathy Heise of Denver were once again winners of the 'Voluntarily Stayed with the Paukerts and Lived' award, which this year included an unlimited number of nights in the luxurious 'Gyprock Room' of our semi-finished basement suite.  After a couple nights of such squalor we all headed up to Yoho National Park where we joined Dave and Connie Puls, down from Anchorage.  Thus Katherine got her first chance to go hiking and camping.  Winston and Mary Marugg blew through town in September en route to the high country.  They run a church camp down in Colorado, but wanted to come up and see what some real mountains are like.  You should, too.  We're adding luxuries to the Gyprock Room all the time (such as doors, a ceiling, electricity), and we are even more exciting in person that you might imagine from the PCL, (which now that I think about it, isn't saying much).
<![if !supportEmptyParas]> <![endif]>
For those of you who are considering throwing your PCL in the trash now in order to avoid the agony of another tedious VACATION RECAP PARAGRAPH......Surprise!  We didn't really have one this year!  With unemployment looming we thought it might be better to take the vacation pay instead of the time off.  But then, when to our surprise I was still employed near the end of the year we had to "use it or lose it."   We pointed the car south and just spent a week or so camping and hiking along the backroads of western Montana.  This was Kathy's first epic vacation journey. Her favourite part was watching daddy's face turn red and hands turn blue when we woke up to 4" of snow on the tent in the Bob Marshall wilderness west of Great Falls.  As the blizzard began to drift in the road to town we remembered that October is "Seedy Cheap Hotel Month" in Montana and celebrated accordingly for the rest of the trip.
<![if !supportEmptyParas]> <![endif]>
We did get down to Yellowstone and the Tetons, spent some time exploring the Big Hole National Battlefield and visited Gary's Uncle Bob and Aunt Donna in Missoula.  The most important activity each night was finding which cowboy bar in town had THE television so we could watch our Blue Jays win the World Series!  (Anyone who admits to having cheered for Atlanta is automatically off the PCL mailing list!).   Not only did Canada's team take the series, but our very own Calgary Stampeders won the Canadian Football League's Grey Cup Championship for the first time in 21 years.  Ok, ok, I know...like you cared...but speaking of sports provides an excellent segue into the next paragraph which talks about:
<![if !supportEmptyParas]> <![endif]>
THE CAMP  (Cue inspiring Olympics-type music).  In January Gary's Dad held a gun to Gary's head and forced him to attend the Chicago Cubs Fantasy Camp for a week in Mesa, Arizona.  Oh the torture!  A whole week of NOTHING BUT playing baseball against and with former major league stars such as Bob Gibson, Curt Flood, Ferguson Jenkins and Joe Pepitone...in REAL uniforms, in a REAL stadium, with REAL coaches, (and with REAL sore muscles along about Wednesday).  For all of you who thought I'd never amount to anything athletically - all I can say is Joe Pepitone was very, very impressed with my hitting.  NYAH, NYAH, NYAH!  We were going to include my baseball card with each copy of the PCL this year but we decided to wait until next year when I'll likely be playing shortstop for the Cubs - it'll be worth more then.  Best of all, Barb came along and put up with all this nonsense and in retaliation is only making me do the dishes every night until March 2003.  Mike and Judy Charles of Phoenix came out to take this rare opportunity to glimpse a future hall-o-famer on his way up, and even brought their kids along.  Mike said it was to dissuade them from ever trying anything this silly when they grow up, but I think he was just kidding.
<![if !supportEmptyParas]> <![endif]>
As everyone expected, Barb turns out to be a wonderful mother, having remained conscious through every crisis to date.  She is still leading our weekly prayer, bible study and fellowship group, (now at our home), making good use of her Bible School degree.  She's had to give up choir for a while because of Katherine, but somehow we press on without her golden voice in the Soprano section. 
<![if !supportEmptyParas]> <![endif]>
YES! I AM AWARE that I have violated International Christmas Letter Treaty Law by exceeding 2 pages in length, but last year's was a bit short so you ALL OWE ME A COUPLE PARAGRAPHS!  Besides, bad jokes take up space - that's just the way it is.  Anyway, we do hope you experience the wonder of Christ's power in your lives at Christmas and throughout 1993.
<![if !supportEmptyParas]> <![endif]>
Love in Christ,
<![if !supportEmptyParas]> <![endif]>
<![if !supportEmptyParas]> <![endif]>
<![if !supportEmptyParas]> <![endif]>
Gary, Barb, Katherine, Kootenai and Toquima
<![if !supportEmptyParas]> <![endif]>
<![if !supportEmptyParas]> <![endif]>
P.S.  This year's official Paukert Christmas Photo (one of a series, collect them all) was taken at the Penner family farm near Dalmeny, in northern Saskatchewan.
<![if !supportEmptyParas]> <![endif]>
<![if !vml]>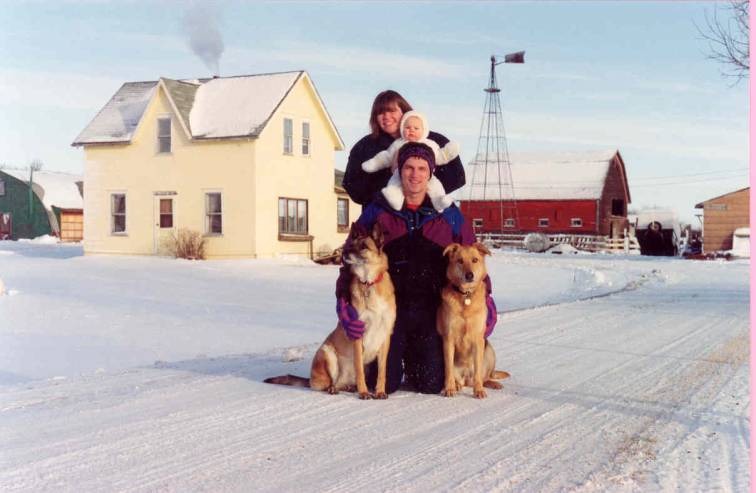 <![endif]>
<![if !supportEmptyParas]> <![endif]>
<![if !supportEmptyParas]> <![endif]>
<![if !supportEmptyParas]> <![endif]>