Dear Friends and Relatives:                                                                                                                                                                             CHRISTMAS 1991
<![if !supportEmptyParas]> <![endif]>
NOTICE:  Despite recent violent protest demonstrations and legal challenges the 5TH ANNUAL PAUKERT CHRISTMAS LETTER (PCL) is hot off the presses!  Observing the following safety procedures will ensure years of safe enjoyment of your PCL:  (1) DO NOT PANIC!  There is no (conclusive) evidence linking the PCL with chronic hallucinations.  (2) Do not attempt to operate heavy machinery while reading the PCL.  (3) Consult a physician if the PCL causes you to experience any of the following:  Drowsiness, rapid heartbeat, skin irritation, green blotches all over your face, forgetfulness or forgetfulness. 
<![if !supportEmptyParas]> <![endif]>
First off this year I want to clear up a misconception.  Apparently, certain of our readership were under the impression that BARB is the author of the annual PCL.  Let me freely admit here and now, while Barb is standing behind me with that long, sharp knife, that it is I, GARY, who is responsible for this yearly torrent of uninspired prose.  Barb's only responsibility is to read the final draft while frequently casting worried sidelong glances in my direction.
<![if !supportEmptyParas]> <![endif]>
This year's unanimous top story is:  BARB SWALLOWED A BASKETBALL.  Well, it's either that or else she's pregnant, (she doesn't like sports that much, so we think it's a baby).  We were shocked of course since we had been drinking only bottled water, but the Doctor is quite convinced.  To answer your next two questions in order:  (1) March 10th, and (2) She had some nausea but is doing fine now.  We will, of course, let you know when the big event happens (and then brag endlessly about our wonderful child until you run screaming from the room).  Please pray that the child will have Barb's nose and my ears.  If its the other way around the poor thing may have no choice but to seek work in a circus.
<![if !supportEmptyParas]> <![endif]>
Well 1991 probably won't make our list of top-10 favourite years.  After all we've had to worry about this year we've taken to volunteering for bomb-squad duty just to relax!  As the year began, we faced a woeful situation:  (1) Gary's assignment in Calgary was ending, (2) Gary's Canadian visa was expiring, (3) Our rental home was being sold out from under us and (4) We couldn't even get around town because our car, as it turned out, was plagued by a pack of EVIL JEEP GREMLINS which worked tirelessly, destroying vital car parts, (each day we would try to start the car and one or two irreplaceable car parts would come flying out with evil jeep gremlin toothmarks all over them.  (We have since learned this is a standard feature on all Jeep models).  Anyway, it was looking like we would soon be banished from this fair land, and would perhaps be forced to trudge our way south on foot to the Montana border, (cue heart-rending violin music).
<![if !supportEmptyParas]> <![endif]>
But the Lord has good plans for us and we have spent the year learning to trust Him and wait for His timing.  (1) Esso convinced one of their guys to take a 2 to 3 year assignment in Houston and that trade allowed them to keep him in Calgary for a while at least.  (2) The Canadian government seems to be ignoring the desperate pleas of its citizenry and has told us they will make him a Landed Immigrant in the next few weeks, (3) We found a house to buy just as we were evicted from the rental, and (4) After numerous attempts to push the jeep into the Bow River we gave up and found a used Nissan, (sans gremlins, apparently).
<![if !supportEmptyParas]> <![endif]>
Here, slyly hidden at the bottom of page one, is the part thousands begged me to omit this year; yes, its the DREADED VACATION RECAP PARAGRAPH, (cue sinister chuckling).  This year's nightmarish expedition was of the usual driving-camping-backpacking variety.  We chose to explore a huge loop through northern British Columbia, the Yukon and the Alaska Panhandle.  We headed off west to Prince Rupert, B.C. on the Pacific Coast.  There we stayed at the home of fisher-persons Bert and Verda Campbell, Barb's good friends from Bible School.  After a nice time there we took a luxurious 6'x 6' cabin on the overnight ferry to the Queen Charlotte Islands, (Canada's Galapagos), 50 miles out in the North Pacific.  There we backpacked past shipwrecks along the coastal rainforest. 
Since Barb was
still fighting morning sickness I decided that this year she didn't have to carry my T.V. and lounge chair in her pack.  Back on the mainland we headed north up the Cassiar Highway, a rugged route to the Yukon which follows the spectacular B.C. Coast Range.  At Hyder, Alaska we stopped to explore old mining roads which take you up the glaciated fjords of the Tongass Forest to where you can hike around some of the most spectacular icefields in the world.  Farther north, still, we stayed at a restored Hudson Bay Company post at Telegraph Creek in the Grand Canyon of the Stikine River.  Once we reached the Yukon the weather deteriorated and the rest of the trip involved staring out the rain-splattered windshield at the rain-soaked Alaska Highway, all the way home.  Yucch! 
<![if !supportEmptyParas]> <![endif]>
As mentioned, we were forced to move this year and ended up buying our first house after lo, these seven years of renting.  The new place is a year-old, two-storey in a developing subdivision near our old place on the west edge of town.  The house has a view of the city, which is especially beautiful at night, and there is a nearby wooded ravine where we take Kootenai and Toquima for their regular game of "Chase the Rodent."  Barb loves the interior - the smoky blue carpets are her favourite colour and the woodwork matches our furniture.  Gary likes the extensive garage workbenches, and has lapsed into a frenzy of improving, fixing, and installing.  Now all he wants is one of those macho toolbelts so he can roam around the house singing "I'm your Handy Man."  What a great feeling to live in your own little cocoon. 
<![if !supportEmptyParas]> <![endif]>
Twice this year we got to be sneaky and underhanded and surprise people.  In May, Gary and Steve Meyer, two of Whitworth College's sneakiest, arranged a surprise retirement party in Spokane for Geology Professor Ed Olson.  Crafty Ed caught wind of it a few days in advance, but his jaw still dropped when over 50 people showed up from the all over western North America.  Then in October Gary's family pulled off a great surprise 60th birthday party for Gary's dad in Colorado.  Four months later he's still in shock after coming home from work to find his house full of people including his son and daughter-in-law from Calgary.
<![if !supportEmptyParas]> <![endif]>
Other miscellany:  (1) A trip to Saskatoon for Barb's parent's 35th anniversary.  (2) Gary spent two weeks on a rig in northern B.C. last January.  (3) Calgary's (Canadian Football League) Stampeders made it to the Grey Cup Championship for the first time in 21 years.  This necessitated a trip to Edmonton to see them thrash the hated Eskimos in the playoffs.  After that miracle, I felt a 14-hour each way drive to Winnipeg with friends from work was in order to see them in the Grey Cup, (like the SuperBowl, Yanks).  Even though we painted our faces with red horses and sat out for 4 hours in temperatures around -5 F/-21 C, Calgary lost.
<![if !supportEmptyParas]> <![endif]>
Activities at church are much the same as last year.  Gary has yet to be impeached as Exalted Grand Poobah of the First Alliance Church Choir, and we both serve on the planning executive of our Couples Fellowship group, (about 35 couples).  Throughout the year we've seen God show how much He cares for us by working miracles in peoples lives, healing marriages and meeting our needs.  On Tuesdays, Barb leads one of the group's PSALM Bible studies, where we pray for each other and share the things God has been doing in our lives.  We get together for fun once a month, and then each spring we have a great retreat in the mountains with a speaker on the topic of improving our marriages.
<![if !supportEmptyParas]> <![endif]>
The coming year looks quite ominous as far as continued employment in the oil industry is concerned, and so we ask that you keep us in your prayers, especially so that we might make wise decisions in line with God's will for our lives.  We, too, will be praying for you, that God will make His presence very obvious to you this Christmas season.  Christmas is simple:  God loved each of us so much that he sacrificed his Son so that we can come back into a relationship with Him. 
<![if !supportEmptyParas]> <![endif]>
Merry Christmas!
<![if !supportEmptyParas]> <![endif]>
<![if !supportEmptyParas]> <![endif]>
 -- Gary & Barb, Kootenai and Toquima
<![if !supportEmptyParas]> <![endif]>
<![if !vml]>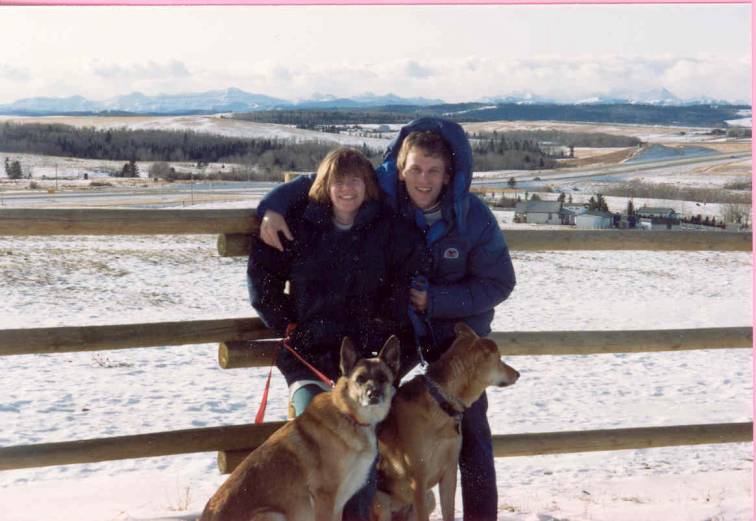 <![endif]>
<![if !supportEmptyParas]> <![endif]>
<![if !supportEmptyParas]> <![endif]>
<![if !supportEmptyParas]> <![endif]>
<![if !supportEmptyParas]> <![endif]>
<![if !supportEmptyParas]> <![endif]>