Dear Friends and Relatives:                                                                                                                                                                               Christmas 1989
<![if !supportEmptyParas]> <![endif]>
Just when you thought it was safe to go back to the mailbox it's.....the 3rd Annual Paukert Christmas Letter.  (Just a reminder - this year we are offering attractively-bound editions of vols. 1 and 2 -- "The Midland Years," -- at the incredibly low price of only $9.95.  Order early for Christmas gift giving, Mastercard and Visa accepted.
<![if !supportEmptyParas]> <![endif]>
As you can see from the enclosed photo there are still four of us -- no new dogs or other dependants this year, which will probably make for a little less tedious letter than you are used to.  Another things that is obvious from the photo is the giant mountain range and glacial conditions that developed in West Texas in July of this year.  I know we were certainly stunned when range after range of glaciated peaks were thrust up from beneath the West Texas caprock.  Come on down and see how things have changed - there's a move afoot to get the 1992 Winter Olympics moved to Odessa which is now at an elevation of over 10,000 ft.
<![if !supportEmptyParas]> <![endif]>
OK, how many of you believed that last bit?  One, two....  Well, just kidding.  Actually, we don't live in West Texas any more.  To our total shock and surprise we were transferred to Calgary last August, and that of course accounts for all the snow and ice in the photo.  Transfers to Canada almost never happen in Exxon, but in May someone got the idea to swap out 5 people in Calgary with 5 in Texas, (plus a 3rd-round draft choice and a player to be named later), for 2 to 3 year assignments.  We're still just amazed at how good the Lord was to us in causing this to happen.  We didn't think a Calgary transfer was possible in Exxon, but with God anything is possible and He really granted us the unspoken desires of our hearts.
<![if !supportEmptyParas]> <![endif]>
Gary now is working for Exxon's Canadian affiliate, Esso Resources Canada, Ltd., as a Sr. Project Geophysicist.  The area he is working is way up north of here in Northeastern British Columbia, (in the Ft. St. John area along the southernmost part of the Alaska Highway).  The task there is to use seismic data to identify geologic formations at depth that may contain large amounts of natural gas.  We don't know what will happen at the end of this assignment - we sure want to stay in Calgary, but assignments in Houston or over-seas are more likely.  In any case God's miracle of getting us to Calgary makes it easier to trust Him in our next move.
<![if !supportEmptyParas]> <![endif]>
So we had quite a busy summer, with moving and vacation all crammed into a couple of months.  In late July we saw everything loaded into boxes, including Kootenai and Toquima who were loaded into pet carriers and flew with us to Calgary.  After a very difficult three weeks of searching we found a really nice house to rent up on the hill west of town where many of the 1988 Winter
Olympic events were held (ski-jump, luge).  It's one of the few places where you can be on the edge of town and reasonably close to downtown at the same time.  The best part is it is only 45 minutes from driveway to the Front Ranges of the Canadian Rockies.  Is this heaven, or what?
<![if !supportEmptyParas]> <![endif]>
We enjoyed a lot of time outdoors this year - especially after our move.  We took a number of backpacking trips into the New Mexico Rockies with our friends Bruce and Kathy Heise, including one on which we climbed the highest peak in New Mexico, 13,000+ foot-high Wheeler Peak.  That was a good weekend to be out of Midland as it was 113 deg. F there!  We also had a good time canoeing on the Rio Grande at Easter with Heise's and Connie and Dave Puls, (shortly after another group was fired upon by snipers on the Mexican side - we returned with all intact).  We squeezed a lot of hiking and camping in this fall before the snow flew, with Larry and Alice Hager from Edmonton and Eric Johnson, who's piloting sometimes strands him in Calgary for the weekend - lucky for all concerned.  We have also enjoyed having Randall and Diane Davis just a few blocks away here in Calgary - they were our neighbors in Midland for more than a year.
<![if !supportEmptyParas]> <![endif]>
But the year's great highlight was our 3-week 'trip of a lifetime' to Alaska and the Yukon in September.  We'd planned this trip to escape the West Texas blast furnace that time of year and had to scramble a bit when the transfer came through, but all went well.  Much of our time was spent hiking and backpacking in Denali (Mt. McKinley) National Park, Alaska and Kluane National Park, Yukon Territory.  At Kluane we packed in 13 miles south of the Alaska Highway into the icefield Ranges of the St. Elias Mountains where we got right up to the Kaskawulsh Glacier.  Wildlife was everywhere - Dall Sheep, Wolves, Caribou and Grizzly Bear, and toward the end of the trip with winter approaching, the colours in the bush and tundra were spectacular.  (WARNING:  Do not, repeat, do not mention our Alaska photos when in our home.  We cannot resist dragging them out to show you and we have more than enough rolls to bore you into a coma).
<![if !supportEmptyParas]> <![endif]>
OK, anyone out there still awake?  Well, keep going, we're almost done and after all you only have to read these silly Christmas letters once a year.  Our families are doing just fine - Gary's sister Anne is planning on two years of school in Denton, Texas and his brother Steve is going to be at Colorado State.  Barb's siblings are all married off and settled into homes in Saskatchewan and Alberta.  We've been back to Saskatoon once already, over Thanksgiving.  Christmas this year for us will be way up north in Lac la Biche, Alberta at Barb's sister Marlene's.
<![if !supportEmptyParas]> <![endif]>
We've settled right back in at First Alliance Church in Calgary where we met...oh, about 20 years ago it seems.  Actually it's been great to come back and see many of the people we know who are still around.  Also nice to not have to go without good fellowship and teaching while spending months searching for a good church, as we have had to do in the past.  We're both back
in the choir and wow what a big choir!  It's very exciting to sing with a 70 member choir after so many years of much smaller groups.  Plus, Gary doesn't stick out like a sore thumb as much!
<![if !supportEmptyParas]> <![endif]>
We hope this letter finds you happy and healthy and experiencing the blessings of God's eternal love.  May your life be more and more surrendered to His will in the coming year.
<![if !supportEmptyParas]> <![endif]>
Love and Merry Christmas,
<![if !supportEmptyParas]> <![endif]>
<![if !supportEmptyParas]> <![endif]>
Gary & Barb
<![if !supportEmptyParas]> <![endif]>
<![if !vml]>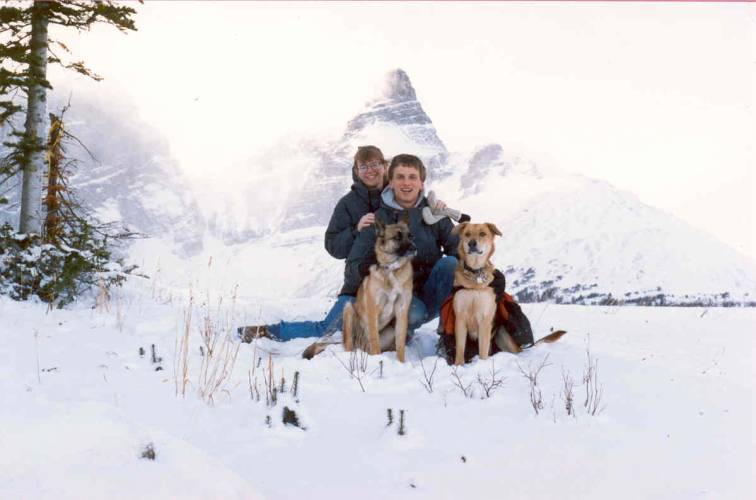 <![endif]>
<![if !supportEmptyParas]> <![endif]>