Dear Friends and Relatives:                                                                                                                                                                                   Christmas 1987
<![if !supportEmptyParas]> <![endif]>
Welcome to the Paukert's first annual Christmas letter!  Since we are now exiled to the wilderness of West Texas and rarely see our friends in the civilized world we thought it important to at least get a letter out at Christmas.  Apologies to those who may despise such impersonal correspondence!  One thing about these letters, though, they do force you to get started on Christmas early and Gary was insufferably proud of himself for getting started on this thing way back in October!  (Rest assured, however, that he will not forsake his traditional December 24th shopping panic, to which everyone looks forward!).
<![if !supportEmptyParas]> <![endif]>
Well, we beat the odds - we have survived into our second year as West Texas transplants.  Fortunately, only half the horror stories about this area are true!  Yes, it is almost perfectly flat for hundreds of miles in every direction.  True, 100 degrees is a cool August day, we can't remember the last time it rained and one inch of snow results in civic paralysis.  And yes every living thing indigenous to the area either bits, stings or has thorns and wants to live in your house.  But on the other hand it is only a 4 minute drive to work with no big-city traffic jams, we can go camping in November and the snow shovel hasn't seen the light of day since we got here!  It's not Eden, but it's more than tolerable and with thousands of Earth Scientists out of work we feel very blessed indeed just to be employed.  We know God wants us here for the present and that is very satisfying.
<![if !supportEmptyParas]> <![endif]>
Gary is now a Senior Petroleum Geophysicist with the Frontier Project of Exxon's Western Division.  That project is charged with finding large oil fields in very complex and unexplored areas of Nevada, Washington, Oregon and California - perhaps some of the last places left to look in the U.S.A.  Gary's area is southeastern Nevada, basically between Ely and Las Vegas.  There he uses seismic, gravity. magnetic and electrical measurements to determine where best to drill a well.
<![if !supportEmptyParas]> <![endif]>
Barb is back to working again, this time with two temporary agencies, Adia and Olsten.  Each has supplied her with a tow-day-per-week job; one is at an IBM sales office and one is at a Chevron purchasing office.  Both jobs are as a secretary/receptionist.  She's enjoying the chance to be out of the house again and is getting rave reviews from the employers, as per usual.
<![if !supportEmptyParas]> <![endif]>
In June we finally quit renting apartments and moved into a rental house.  How wonderful it is to have "luxuries" like a garage, a back yard, trees, and extras bedroom and no noisy neighbors!  Best of all, being in a house allowed us to bring in a little addition to our family.  Our "little" bundle of joy is a
3/4 German Shepherd, 1/4 Black Labrador Retriever and is named "Kootenai" after the national park in the British Columbia Rockies.  She is now an 8-month-old, 60-pound monster who's been a great diversion.  However, we have not entirely appreciated her efforts to tunnel to China through our backyard.  (Obviously this is a dog with an inquisitive Geologic mind and thus she is forgiven).
<![if !supportEmptyParas]> <![endif]>
As flat and barren as is this part of the world we found it a necessity to escape to more hospitable climes quite often in 1987.  Also, we were blessed with visits from many devoted friends who risked their reputations and aesthetic senses in order to come visit us.  In February, our friends Jim and Kelly Johnson, Van Martin and Judy Brown drove down from Colorado for a wonderful week which included a drive over to the Carlsbad Caverns.  In March, Gary's parents visited for a week but paid a high price, getting trapped in a Texas panhandle blizzard on their way back home to Colorado.  April was especially busy with a visit from Barb's family - Mom, Dad, and Judi - all the way from Saskatoon, Saskatchewan.  Also, we took a week and went hopping from mountain range to mountain range along the Mexican border in Texas, New Mexico and Arizona.  Highlights included camping in Arizona's Chiricahua Mountains and staying with our friends Mike and Judy Charles in Phoenix.  The undisputable lowlight was having the car broken into and camping gear stolen in Las Cruces, New Mexico on the last day of the trip.
<![if !supportEmptyParas]> <![endif]>
In May we spent the long weekend in Dallas so that Gary could get his yearly "fix" of Major League Baseball, but after that we pretty much sat inside in front of the air conditioners all summer (no fools we) as the temperatures soared over 100 degrees F.  The only thing that got Gary outside all summer was the enticement of twice-weekly softball games with the church team, (the saying actually goes:  "mad dogs, Englishmen, and softball fanatics).  Maybe Geologists should be added to the list as he went on a 5-day geology field trip in the far West Texas desert in late July, although under duress.
<![if !supportEmptyParas]> <![endif]>
When it didn't cool off in September we decided a visit to the folks in Colorado was essential, especially since they had not yet seen their "granddog."  Gary got to stop through on two other weekends in September after business trips to Denver and Casper, Wyoming, so for a while there it was rather confusing as to where he actually lived!  In October, Gary had a two-week Structural Geology school in Houston and Barb came along to enjoy the big city, (she really does!), and the nice hotel.  On the weekend in between we drove over to New Orleans and into Mississippi and had a nice time sightseeing in a part of the country in which we had never been.  In November we did some camping at Palo Duro Canyon, near Amarillo and then later in the month showed up on Gary's parent's doorstep at 4:30 am the day before Thanksgiving without prior warning - the doctors say Mom and Dad should eventually recover from the shock.  Now Christmas finds us flying to Minot, North Dakota and then driving up to Saskatoon to spend a week with Barb's family.  We're really looking forward to some "real winter" up there!
<![if !supportEmptyParas]> <![endif]>
All year long we've been involved in a smaller Baptist church and are really benefitting from the fellowship and teaching.  We're glad, too, to be back singing in a choir again and the couple's group has provided us with friends who make us feel at home here so far from home.  Barb also is involved in Bible Study Fellowship in Odessa, a 20-minute drive west of here.
<![if !supportEmptyParas]> <![endif]>
We've been blessed with a good year in 1987 (and definitely a better one than in 1986!).  We hope and pray the same has been true for you.  May God continually bless you and may you each draw closer to Him in 1988.  Please keep in touch!
<![if !supportEmptyParas]> <![endif]>
Love in Christ,
<![if !supportEmptyParas]> <![endif]>
<![if !supportEmptyParas]> <![endif]>
Gary & Barb
<![if !supportEmptyParas]> <![endif]>
<![if !supportEmptyParas]> <![endif]>
<![if !vml]>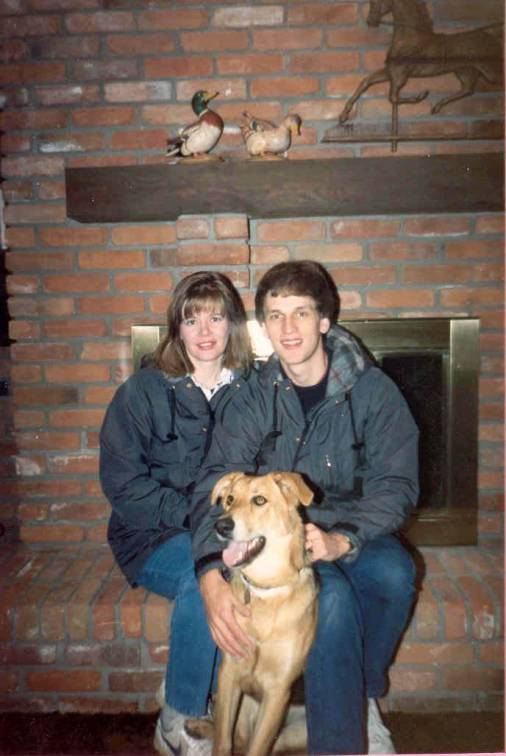 <![endif]>