<div class="Section1"><span style="font-size:10.5pt;"><span style="font-size:10pt;background:#FFFFFF;">Dear Friends and Relatives:                                                                                                                                                                                                                                                                                                                                              Christmas, 2004 and 2005
In 1815 the Tambora volcano in Indonesia exploded, hurling so much dust into the atmosphere that global cooling resulted.  The following year became known as 'The Year Without A Summer.'  In 1994 a tragedy of equal proportion occurred when Baseball Commissioner Bud Selig cancelled the rest of the baseball season, leading to 'The Year Without A World Series.'  So it was no surprise when the phrase 'The Year Without A Paukert Christmas Letter' crept into our language in the aftermath of 2004.  Fortunately, now that the bi-partisan congressional committee has issued its 8,000-page report, we know why this tragedy occurred.  Evidence unearthed by the committee clearly indicates that the single biggest contributing factor was, and I quote:  "Gary was really, really busy and too tired to do it."  Of course the nutbar conspiracy crowd will have none of it.  We've heard their shrill accusations that Chinese double agent Huang Tse was trying to access secret PCL computer files when he was assassinated.  And many continue to believe that the shots fired at my car in Calgary on 11/16/2004 were more than just a 'random drive-by shooting.'  But to believe as they do that the Guyanese Intelligence Agency was trying to steal the secret PCL formula in order to develop a terrible 'sleep bomb' is paranoia, pure and simple.  No, the real reason for your crushing disappointment last year is nothing more than that we were in the throes of moving to a new country on a new continent in a new hemisphere. Tut-tut, fear not. You hold the comforting Almost-Always-Annual 18th Paukert Christmas Letter in your hands.  High-quality Christmas Letter Entertainment is back.  And there's nothing you can do about it.
I have frequent moments in my life where I stop and look around me and think 'wow, I sure never imagined I'd end up HERE.'  Granted, some of these moments involve criminal charges or search-and-rescue squads, but the point is that life surprises us.  For me one of those moments came in January when I was walking to my office in the dark and drizzle of early morning; umbrella in hand and shrouded in my black woolen overcoat, surrounded by British accents, ancient grey granite buildings and double-decker buses.  All I needed was a bowler hat and I could have passed for the children's father in 'Mary Poppins.'  Finding myself living in Quito or Buenos Aires would not have surprised me after 15 years of travel to Latin America, but finding myself walking from my 'flat' to my office in a major British city was a surprise. 
Our lives veered in an unexpected direction when my VP-Exploration walked into my office on September 1st, 2004.  'Gary,' he said, 'I need a top-notch, brilliant geophysicist to take on a critical assignment in Aberdeen, Scotland but every one of them has turned me down….will you go instead?'  Who could resist that kind of sweet-talk?  So 30 seconds after the last Christmas present was unwrapped that year, we embarked upon a 30-day life dismantling and reconstruction that would impress even the Federal Witness Protection Program people.  Cars were sold, accounts closed, utilities disconnected and goodbyes said, (most tearfully to the pet rodent collection).  Everything we needed to live on for 6 weeks was packed into 12 suitcases. Two-thirds of our 'Stuff' went into storage, (amazingly we have missed absolutely none of it, what does that tell you about possessions?); the other third was crammed into a big steel container for a voyage across the Atlantic.  On January 6th we landed in Aberdeen and were ushered to the 'spacious' temporary flat at Skene House that would be our home for the next month, (along with a family of round-shouldered mice).  Cars were bought (two in one afternoon!), accounts were opened, utilities connected and hellos said.  In less than a month we had moved into our house and life had returned to normal.  Well.  As if we lived normal lives.
So where are we and what are we doing?  Aberdeen is the 3rd largest city in Scotland.  Think Saskatoon, think Spokane, think 250,000 people; at 57° latitude like Juneau, Alaska, but on the North Sea facing Norway.  We live outside the small town of Peterculter, (ye says it 'Peetrrrcootrr,' laddie), 6 miles west of the city.  Much of the exploration for of North Sea oilfields takes place from Aberdeen and my employer has recently purchased properties on the Norwegian side of the border, so my job is to explore for oil there.  This has involved 14 trips this year to places such as Stavanger, Oslo and Trøndheim, but fortunately it's only a 50 minute flight to Norway.  I like what I am doing.  And it's much safer.  My last few years as Indiana Paukert in Bogotá, Colombia, dodging bombs, bullets and kidnappers, contrast with Stavanger, where the single biggest risk seems to be mistakenly ingesting lutefisk.  Our rented home is in a little cul-de-sac surrounded by stone-walled horse pastures.  Fifty yards behind us is the River Dee with wonderful walking paths, one of which leads into town 1 km distant.  This is not to brag that we live idyllic lives here, we don't; but it is an interesting place to be for a change and for a while.
Barb and Katherine like it here, too.  Surprisingly, this being secular Europe, we've found a good church and Barb is involved there and with Mothers Who Care.  There are also expat organizations for her such as the American and Canadian Women's Clubs, which do fun things such as 'hill walking' and castle tours.  Barb was a missionary to Europe when I met her, and since I 'stole her from the Lord's work' I am glad to see how she has blossomed here and is enjoying what she missed of Europe by goofing up and marrying me.  She loves to walk the paths along the river by our house, and the beaches and cliffs at the sea, but longs for larger appliances here in the Land of Tiny Refrigerators.
Katherine has a good youth group to attend at church and loved horseback barrel-racing at Teen Ranch Scotland during summer holidays in the Highlands west of us.  Moving overseas as a 13-year-old girl is not easy, and there were some tears and sadness, but she's been a real trooper.  As much as she misses her friends in North America, (thank goodness for the MSN Messenger), she has made some good ones here. She attends the International School of Aberdeen, with a U.S.-styled curriculum.  The mid-year move was difficult and she had some academic struggles at first, but has really pulled out of it and is getting good grades again.  Sadly, there is not much softball played here, (which has some unbelievers saying that my goal of making it to the Major Leagues is now in jeopardy, the fools), but there is modest Little League for expats and she did wonderfully pitching overhand baseball in a mostly-boys league for the first time.  She, too, likes living on the river and so close to school that she can walk home.  But Aberdeen is 'boring' compared to the Bright Lights, Big City of Calgary.
Prior to leaving 'The Colonies' we were blessed with the pitter-patter of tiny (clawed) feet around the house for the first time in 3 years.  Chaco, the purebred German Shepherd Dog I've always wanted, arrived just months before we learned we'd be moving.  New U.K. quarantine laws meant he only had to stay 3 months in Canada (with the breeder) before being able to catch up with us here in April in a joyous reunion full of yelps and slurpy kisses (some from Chaco as well).  Chaco's fancy-schmancy name is Aviator's Chaco Hidalgo, named after an area of Argentina I've traveled in.  He is my reward for 14 long years of putting up with the neurotic and disobedient antics our former pets.  We got a good one this time.  Chaco is sweet-tempered, attentive, smart and very bonded to the family…a dog you don't want to waste.  So I've been trying out various activities such as dog shows, competitive obedience and agility.  In agility we negotiate a course of about 25 hurdles, tunnels, planks and see-saws in a time trial.  Chaco is brilliant at this.  He is very patiently training me to run wheezing and gasping through the course while simultaneously giving him the proper hand and body signals.  We are going to compete in a regional championship this April, likely laughingstock for all the speedy and agile border collies that Scotland produces.
So what is it like, living in the U.K. as an expat?, you ask.  Living here is…The smell of coal burning in sitting room fireplaces in 300-year-old inns…The still-surprising thrill I get when I crest a hill and see the North Sea stretching away to the horizon…Sticky toffee pudding and steak pies at the local pub, The Ploughman…Straining to pick out words through a thick Scottish brogue…The challenge of driving on streets that are only wide enough for two moving cars and one parked…Learning which words that you use at home can never be used in polite company here…The sheer terror of exiting a roundabout...Purple heather in the fall running high up barren moors…That moment when brain-rewiring is complete and driving left-side suddenly stops feeling like suicide…Dry-stone walls between farmer's fields…Having to plug your U.S. appliances only into transformers and only after calculating the wattage you'll use…Six hours of daylight in December, but enough light to read by outside at 1:00 a.m. in June…A different castle to visit every weekend…Trolleys not shopping carts, trousers not pants...Ten minutes to the beach and to water so cold you pray you'll never have to enter it…Slugs and snails and spiders galore…Garages too small for your cars…11-digit phone numbers…Cricket matches on the car radio…Living life 7 hours ahead of all your friends back home…The ever-present threat of haggis…Fruits from Israel and Spain and Morocco...That first exhilarating expedition all the way across town to COSTCO…Shoveling snow once a year...ASDA and B&Q instead of WalMart and HomeDepot...
DREADED EUROPEAN VACATION RECAP PARAGRAPH:  For our 20th wedding anniversary in 2004 we went to Colombia.  The romantic land of cocaine cartels and guerrilla incursions.  But I had a free plane ticket to anywhere in Colombia that needed to be used, so we chose the San Andres Islands, a province of Colombia oddly located 500 miles from its shores but just off the coast of Nicaragua.  Sort of a poor-man's Cancun, but we had fun snorkeling and riding motor scooters all over the island.  Hey, if there are palm trees, how bad can it be?  But now those travel-junkies the Paukerts have moved to Europe, with its small distances and relatively cheap airfares.  It's like giving a drunk a liquor store.  I apologize in advance for the years of vacation details yet to come.  By March we had become proficient enough in driving on the left side of the road to stop killing and maiming people on the motorways, so we began to explore Scotland.  Thus far we have visited Edinburgh, only 2 hours away, and done some hiking in the Cairngorm Range.  In March also we took our first trip to 'The Continent' when my work team went on a field trip to Greece.  Barb and Katherine met me in Athens, (very cool to stand on Mars Hill where Paul addressed the Athenians in the book of Acts) after which we traveled to the island of Santorini, which is the beautiful remnant of a volcano which exploded in 500 B.C. destroying the Minoan culture.  In August we flew to Dublin, Ireland (£9 each way!) for a 4-day weekend there and in Northern Ireland, where we visited the Giant's Causeway basalt columns.  October break found us in Spain, where we spent a couple of days in Sevilla with David and Karen Erickson from Washington State, and then wandered about Andalucía and Extremadura.  In Zafra we stayed in a 15th century castle which once hosted Hernán Cortés, and toured the Mesquiza in Córdoba and the Alhambra gardens in Granada. Barb has taken advantage of cheap airfares twice with the American Women's group and flown to Nice and Prague for long weekends, not to mention a bus trip to Stoke-on-Trent, England.  I know, it sounds like we're a bunch of movie stars.  But such travel is common here.
Sadly, we had one not-so-fun trip to make last year.  In June we grieved the sudden passing of Barb's father, Cornie Penner, in Saskatoon and made an emergency trip to Canada to be with family.  Cornie was 70 and had just made it through bypass surgery three weeks earlier, so the sadness was compounded by shock.  We'll miss his smiling face at the dinner table there.  Katherine will miss leg-wrestling with grandpa and trips to the farm to visit newborn kittens in the hayloft.  Barb will miss having a dad, and I'll miss having a great father-in-law, but we know we'll see him again in what will seem then to have been a very short while.
Our house has a lovely spare bedroom just waiting for any of our friends who would like to avoid the high cost of travel in the U.K. But come soon – we expect to be moving to Stavanger, Norway in August after a July home visit to Colorado, Alberta and Saskatchewan.  May God bless you richly in the coming year.
Love in Christ,
Gary, Barb, Katherine & 'Chaco' Paukert                                                                                                               Gary@ThePaukerts.net
39 Pittengullies Brae, Peterculter, Aberdeenshire, Scotland, U.K.  AB14 0QU                                                  www.ThePaukerts.net
P.S.  This year's familiar, yet underexposed, pose of us sitting together smiling at a camera was lovingly crafted at the Sands of Forvie beach on the North Sea just north of Aberdeen.
<![if !vml]>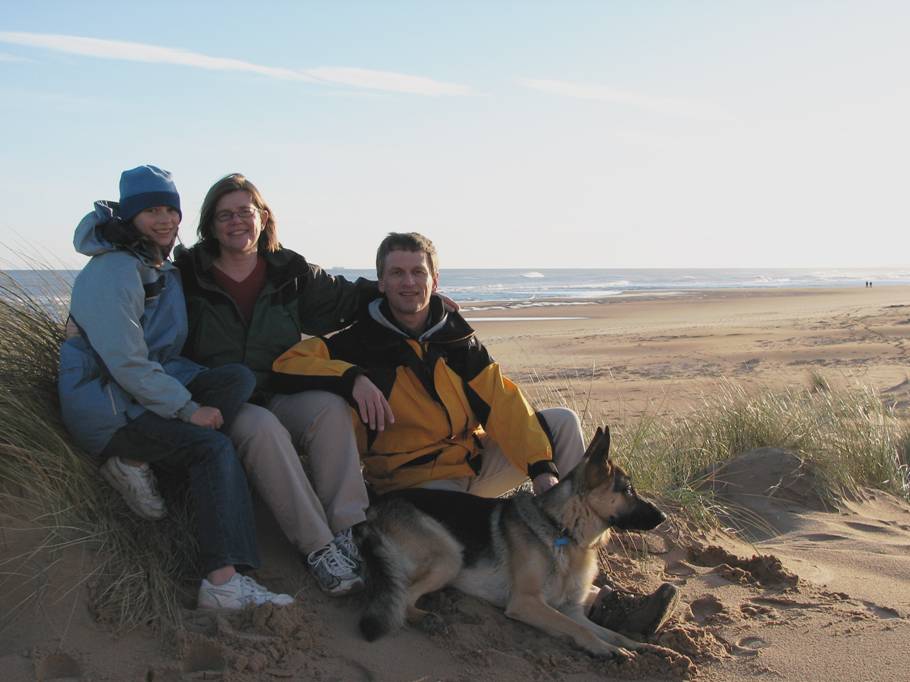 <![endif]><span style="font-size:10.5pt;">